What is C Difficile?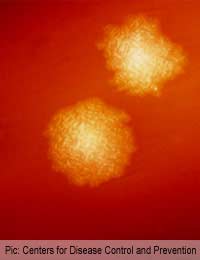 C. difficile is Clostridium difficile, a member of the Clostridium family of bacteria. This family of dangerous human pathogens also includes Clostridium tetani, which causes tetanus, Clostridium botulinum, which causes botulism and Clostridium welchii and other species that cause gangrene. Until recently, Clostridium difficile was thought to be a harmless and friendly bacterium that was a normal inhabitant of the digestive system. It is commonly found in the large intestine of healthy people.
In the late 1970s, researchers realised that, under specific circumstances, C. difficile could cause disease. The victims were usually elderly patients in hospitals or nursing homes who had been treated with a course of antibiotics for an unrelated infection. During the course of treatment, they frequently developed severe diarrhoea and colitis and the main infective organism responsible was identified as C difficile. The course of antibiotics had wiped out the normal flora of the intestine, creating conditions that allowed C. difficile to change from being harmless to harmful.
Increase In Cases From The 1990s
Cases of antibiotic-associated diarrhoea due to C. difficile were probably increasing throughout the 1980s but the tools to diagnose the infection and characterise the strains involved were not developed until into the 1990s. This increase in diagnostic capacity is partly responsible for the increase in cases reported – from less than 1000 annually in the UK in 1990 to over 44 000 in 2004.
Further increases have been noted in the last four years, and the death toll has risen. In 2003, C difficile was mentioned as a contributory factor to death in 2000 death certificates in the UK, but in 2007, that figure had risen to 8324, a four-fold increase.
One of the worst outbreaks in the UK occurred in 2006 at hospitals in the Leicester area. Although the cause of death was not confirmed in additional 29 cases, C. difficile definitely killed 49 people who were infected. Hospitals in Kent also reported a prolonged outbreak between 2004 and 2006, in which 90 people died.
Type 027
Since the bacterium C. difficile was first noted as a cause of post-antibiotic therapy diarrhoea, it has been researched more extensively. Over 100 types have now been described, according to the genes carried on the bacterial chromosome.
One particularly dangerous strain, C. difficile Type 027 was first identified in the UK in 1999 and individual cases began to appear in the early years of the 21-century. However, in 2004 and 2005, there were several large outbreaks of C. difficile at the Exeter, Royal Devon and Stoke Mandeville hospitals. Typing of the isolates recovered from patients showed a very high level of Type 027. This type was also responsible for epidemic-style outbreaks in Canada and the USA.
Infection with Type 027 is more dangerous than other strains of C. difficile because it produces extra toxins that stimulate a higher rate of bacterial division and so cause more intestinal damage.
Dealing With C. Difficile
C. difficile is presenting a huge problem in hospitals all over the world as we approach the end of the first decade of the 21-century. Cases continue to increase and studies are showing that increased cleanliness and handwashing, whilst generally a good idea, does not really impact on C. difficile cases. The major cause is the use of antibiotics in hospitals – over half of all prescriptions are unnecessary and are due to out-dated standard practices, which are in need of urgent review.
For many patients, C. difficile infection subsides when the antibiotic course is completed, but the infection does recur a few weeks later in a high number of people. Treatment with metronidazole, an antibiotic specific for anaerobic bacterial will clear C. difficile, but subsequent reinfection is always a possibility. Various trials have looked at probiotic supplements taken with antibiotics to see if the introduction of friendly bacteria, mainly the Lactobacillus species, can prevent overgrowth of C. difficile in the intestine. Some positive results have been reported, but larger trials are needed.
It may also be possible to use a vaccine active against the toxins produced by C. difficile but, again, larger trials are needed before this could be used in hospital patients.
You might also like...