What Causes Scarlet Fever?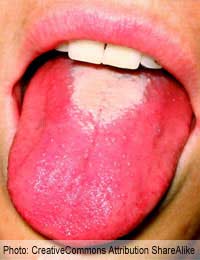 Scarlet fever is caused by an infection with the bacterium Streptococcus pyogenes, which is classed as a Group A Streptococcus. The bacterial infection leads to a very sore throat and two distinctive symptoms after which this disorder is named – a scarlet tongue and a scarlet skin rash. This bacterium also produces a toxin that causes a high fever.
The tongue of someone who has scarlet fever is bright red, and has the look of the surface of a strawberry. The skin rash can spread all over the body but is worst in the moist folds of the skin, such as in the armpit and groin. A few days after the rash appears, the affected areas of skin start to peel away in large flakes.
Scarlet fever is also sometimes called Scarlatina, but this was used as a term to describe less serious cases in times when the infection was more common than it is now.
Is Scarlet Fever Dangerous?
Today, scarlet fever is rarely seen and is usually not dangerous as it is easily treated with a course of antibiotics. It is a more serious infection than a common cold, but it is rarely fatal in industrialised countries. Scarlet fever tends to affect only children between the age of 4 and 8 and it is more of a problem for GPs because they see so few cases - they can fail to diagnose it correctly. A throat swab is usually necessary for a confirmed diagnosis and all cases are reported officially to the local health authority so that they can track any potential outbreaks.
It used to be a very different story. In the days before antibiotics, there was no way to treat the infection. Scarlet fever was a major child killer at the end of the 19th century. Even if not fatal, the condition could lead to many different complications as the bacterial toxin produced by Streptococcus pyogenes, as well as the bacterial infection itself, spread widely through the body, causing damage to important tissues and organs.
Complications of Scarlet Fever
There are many serious complications of scarlet fever. The infection can lead to pneumonia, rheumatic fever, post-streptococcal glomerulonephritis (inflammation in the kidneys, which can cause kidney failure) and paediatric autoimmune neuropsychiatric disorders (cognitive problems in children such as obsessive compulsive disorder or Tourette syndrome). The bacteria can also spread into the blood, causing septicaemia and from there to the brain, causing meningitis or an infection in the bones.
In the past, one of the common outcomes of a serious case of scarlet fever in early childhood was the loss of both hearing and sight. Hellen Keller, who overcame her disabilities in amazing ways, was born with perfect sight and hearing but became ill with scarlet fever at the age of 19 months. This left her profoundly deaf and unable to see and she was like a wild animal by the age of six. Fortunately, her parents found a special school and there she met her first teacher, Ann Sulivan, who taught her to read Braille and was her mentor and friend for half a century.
Some of the complications are due to the toxin produced by Streptococcus pyogenes, which stimulates an autoimmune response in the body. Antibodies to the toxin cross react with tissues in the kidney, heart valves and brain, causing the body's own immune system to damage itself. These complications are very rare if antibiotic treatment is given to limit the course of the disease but they used to be seen more often.
Antibiotic Treatment
Even in relatively mild cases of scarlet fever, most GPs will prescribe antibiotics just to reduce the risk of possible complications. A ten-day course of a general antibiotic such as amoxicillin or erythromycin is usually recommended, together with care at home. This should include plenty of fluids and rest, with paracetamol to relieve any aches and to reduce body temperature, although the fever normally goes away within a day of antibiotic therapy.
You might also like...