Eye Witness Account: The Misery of Cholera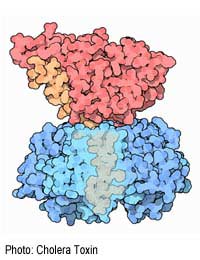 As of January 22 2009, almost 2800 people had died in the cholera outbreak in Zimbabwe that began in August 2008.
This is the first substantial outbreak of cholera in Africa for some years but was inevitable because of the neglect of sanitation and water systems in Zimbabwe during the last decade. Water, sewerage and waste control systems have all but collapsed during that time.
Mwana Shumba, a 23-year old student from Zimbabwe who has been studying in the UK gives an eye witness account of the impact that cholera was having from her recent visit when she returned home for Christmas 2008.
"Everytime I go back to Zimbabwe, things have got worse. I dread it now but my family is still there. I don't know for how long. Maybe when I go back next time, they will be dead. Cholera is affecting everyone. Those that are sick, those looking after them, the rest of the people fearing they will be next. So many people in every community in Harare are ill," says Mwana, whose distress is obvious.
Poor Sanitation
Mwana volunteered to help aid workers during her stay of three weeks and was lucky not to have caught cholera herself. "The conditions are unbelievable. None of the water system for the sewerage has worked for the last six years. I didn't find any toilet that could flush there, all are overflowing with filth, attracting flies and mosquitoes and the stench is awful. Rubbish lines the streets because there is nobody to collect it up.
So many people are dying, and their bodies sometimes just lie outside their homes, loosely wrapped. The relatives are too weak to arrange the burial and nobody helps. Now that the rains are starting, things will just get worse," reports Mwana.
As she went round the outskirts of the capital, Harare, everyone Mwana met seemed to be thin and hollow-cheeked from repeated bouts of illness. The young and the elderly are particularly at risk and there is little that aid workers can do. Sometimes the oral rehydration therapy packs are in short supply and don't seem to get to where they are needed.
"The general poverty that the people are living in has also left them very weak. There are many cases of malnutrition in children and adults. I worked for a few days at one of the clinics, which was very busy and I personally saw over 40 people die," says Mwana.
Killer Cholera
Cholera is a bacterial infection that affects the intestine, causing severe diarrhoea and stomach pains. The bacterium produces a toxin that acts as a water pump, forcing water from the body into the intestine, no matter how much or little the person has drunk. Someone can be OK in the morning and severely dehydrated by lunchtime and dead by early evening, so great is the loss of fluid caused.
"Because the bacterium is spread by water, the lack of clean water just continues the cycle of reinfection. Just because you have had one bout of cholera and recovered, doesn't mean you cannot get it again," explains Mwana.
International Efforts
Mwana is grateful for the international aid efforts and also for the sanctions being imposed on the government of Zimbabwe in an effort to try to get change but there is little hope of any improvements in the near future. In late January 2009, the Red Cross warned that the number of people infected in the current outbreak could easily top 60 000 and the situation was spiraling out of control.
"Few clinics and medical centres have the proper supplies to be able to help people properly. Nobody should be dying as this is a treatable disease, but the lack of trained and skilled medical people and no supplies means that we might as well be living in the past before modern medicine," says Mwana.
Cholera is Spreading
The inability of Zimbabwe to control its cholera epidemic has led to water sources that serve neighbouring countries being contaminated and the disease started spreading to South Africa, Zambia, Botswana and Mozambique at the end of 2008.
Strenuous efforts are trying to limit the cases, but 28 people had died in Zambia by the middle of January 2009. "Until the reasons that have led to the epidemic in Zimbabwe are faced, and basic sanitation is restored to the urban areas of the country, the countries all around are constantly at risk of new infections. This is turning into a major humanitarian disaster," concludes Mwana.
You might also like...