Why is Anthrax So Feared?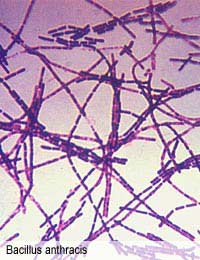 Anthrax is a highly infectious and often lethal bacterial infection. However, the bacterium that causes anthrax has a unique property that makes it exceptionally dangerous; it can form spores that remain dormant but still able to cause disease for hundreds of years. Spores can survive everywhere on Earth, apart from deepest Antarctica. They are practically indestructible.
Anthrax is quite rare but it can still affect cattle grazing in fields where spores are present. The animals take in the spores by eating contaminated vegetation, or by inhaling the spores when rummaging in the plants. As soon as the spores get into a host, they revive very quickly and start dividing to set up a full-scale bacterial infection.
If the animal dies, the spores remain in the carcass, which then may be eaten by carnivores or carrion eaters, infecting them with anthrax. Humans can become ill when they come into contact with infected meat or animal tissues, particularly blood. The spores can gain entry to the body through the digestive system, through inhalation or through broken areas of skin.
The Bacterium that Causes Anthrax
Anthrax can occur in several different forms but the pathogen that causes this infection is always Bacillus anthracis, which is a long and very thin rod shaped bacterium. Its name comes from the earliest observations that infection with the bacterium causes skin sores that go black in the centre -–as anthracite is a black mineral, this word root was used for anthracis and anthrax.
Effects of Anthrax
The symptoms and outcome of anthrax depends on how the spores gain entry to the body. If they are inhaled, pulmonary anthrax develops. This begins with a flu-like illness but respiratory failure follows within a few days. If treatment is not started in the early days of the flu-like phase, death is virtually guaranteed. People who are most at risk from this type of anthrax are workers who deal with sheep wool – packers and sorters and people who deal with animal parts such as horns, skins and hair bristles, which can be used to make a variety of commodities including buttons, brushes and leather goods.
If the anthrax spores are taken into the stomach by eating contaminated food, severe vomiting, usually of blood, diarrhoea and severe pain caused by inflammation of the intestines follows quickly. The bacteria are highly invasive and punch holes through the walls of the intestines to gain access to the bloodstream. Septicaemia follows, with organ failure and death close behind. Although horrific, gastrointestinal anthrax is not as often fatal as the pulmonary form – only between 25 and 60 per cent of people die.
The least fatal form of anthrax is the cutaneous form that affects the skin. Anthrax spores that enter through a cut or graze set up a large black boil on the skin about 5 days later. Surprisingly, this is not painful. If there is only a single lesion, this can resolve on its own without treatment but if the anthrax bacteria penetrate into tissues beyond the skin, general septicaemia and death occurs in about a fifth of cases.
Treating, Avoiding and Preventing Anthrax
If diagnosed early enough, all three forms of anthrax can be treated successfully with antibiotics. However, in the case of pulmonary anthrax, early treatment is rarely possible because of the rapid progression. Anthrax vaccines have been developed but, like many whole cell killed bacterial vaccines, they produce side effects such as swelling at the injection site and are not considered to be very safe. Widespread vaccination is not necessary, but at-risk workers may opt for an annual vaccination in preference to catching anthrax. Military personnel may also be vaccinated before going into active service in areas where anthrax bioweapon use is considered a possibility.
For most people, no special precautions are needed to avoid anthrax, as it is so rare. However, farm workers or healthcare workers who have to deal with the body of someone who has died of anthrax need to be extremely careful. All tissues and body fluids can contain spores, as can animal carcasses, wool and body fluids. Strong oxidising agents must be used as disinfectants – a site used for dealing with infected animal tissue could harbour viable spores for centuries otherwise.
Anthrax and Bioterrorism
Anthrax could be used as an agent of bioterrorism and world leaders have taken this risk very seriously in the past, with good reason. Extensive British bioweapon trials took place during World War II and an island in Scotland remained contaminated with anthrax spores until it was cleaned up in 1990. The USA, however, destroyed its stocks of anthrax in 1972, and the Soviet Unions store of hundreds of tons of spores was destroyed in 2002 after the break-up of the USSR.
You might also like...