What is Botulism?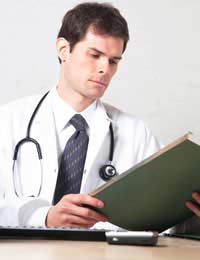 Botulism is an illness caused by the effects of the potent botulin toxin, which is produced by the bacterium Clostridium botulinum. The toxin is active in very tiny amounts. About one thousandth of a gram of purified toxin is enough to kill an adult man.
There are actually three types of botulism, which depend on how the bacteria or the toxin get into the body. When a baby less than 12 months old eats food containing spores of the bacterium Clostridium botulinum, these spores germinate in the intestine and set up a bacterial infection there. As the population of Clostridium increase, they start to produce botulin toxin, causing infant botulism. Infants are uniquely susceptible to this type of botulism because their intestines produce less acid and tend not to have their full complement of friendly bacteria. Infants therefore have fewer barriers to prevent the spores germinating. Sweeteners in baby food have been implicated in cases of infant botulism.
Food borne botulism is the result of eating food that contains toxin that has been produced by bacteria actively dividing in it. A third and relatively rare type of botulism is wound botulism, which develops when Clostridium botulinum infects a skin wound. Wound botulism can occur during wars, but has also become more common in recent years at the injection sites of drug users.
The Symptoms of Botulism
The symptoms of infant or food-borne botulism begin anywhere between 12 hours and 10 days of ingestion of either spores or toxin-contaminated food. Infant botulism tends to have longer incubation periods because of the time it takes the spores to germinate and produce a colony of bacteria large enough to release significant amounts of toxin. Wound botulism takes even longer to develop – up to 14 days,
The symptoms are similar in each case and include typical signs of muscle paralysis. The vision becomes blurred, the mouth dry, and muscle weakness causes the eyelids to droop. The affected person also finds it difficult to swallow. As the concentration of toxin builds up, speech can become slurred and breathing can become difficult. Diarrhoea, vomiting and a loss of control of the bladder are other signs.
All cases of botulism are very dangerous and the disease has a high fatality rate. Death usually occurs as a result of a complete blockage of the nerves that control breathing, leading to respiratory failure.
Why No Antibiotic Therapy?
Treating botulism poses a great problem because antibiotics can prove lethal. Many antibiotics work by splitting open the bacterial cells to kill them. In the case of Clostridium botulinum, this does result in the death of the bacteria, but it also causes the release of all the toxin that was held within the cell membrane, giving the patient a massive further dose of botulin toxin. The best treatment is supportive care and a ventilator is usually required to take over the job of breathing until the nerves to the respiratory system recover. This can take several weeks.
If the disease is diagnosed very early, it is possible to prevent the worst of the symptoms by giving an antidote to the toxin. Antitoxin can be raised in horses. The animals are not harmed by the effects of the small amounts of toxin injected into them but they do mount a strong immune response to it. The antibodies formed can be purified from blood taken from the horse and injected into someone with botulism. The antibodies travel through the blood, binding to the toxin and rendering it harmless.
Foods to Avoid
Botulism is rare but it has been known to occur in tinned foods. Regulations now stipulate that canned foods should be heated to 121 degrees Celsius for 3 minutes – which destroys all live Clostridium botulinum and also all spores. Problems in canning plants can allow contamination, however, and it is best to avoid any tins of food that appear to bulge. The bulging may be due to the gas production by Clostridium botulinum as it grows on the food inside. Home-canning is particularly risky as far as botulism is concerned.
Other culprits are more surprising. Baked potatoes wrapped in foil and kept warm for long periods can support the growth of C. botulinum; baked potatoes should therefore be eaten when ready, or cooled quickly and put in a fridge.
You might also like...