Facts and Figures About MRSA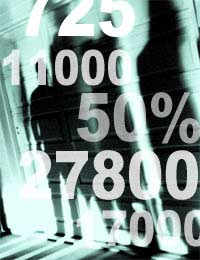 MRSA stands for methicillin-resistant Staphylococcus aureus. This is a strain of a bacteria that is able to grow in the presence of methicillin and other antibiotics, making it very difficult to treat when it causes infection. MRSA has become a common hospital acquired infection, spreading rapidly between patients who are weak and ill with an unrelated illness, or as a result of surgery wounds becoming infected.
MRSA Global History
FACT: MRSA was first identified in the UK in 1961 but was not then a major problem. The first group of people to become infected with MRSA to any significant extent were intravenous drug users in the early 1980s in the USA. It is now found worldwide and is a huge problem in the hospitals of the US, Canada, Europe and Australia. More recently, MRSA has become a serious threat to patients in China, the Middle East and in Asia. It is currently a lesser problem in African states, but this is a situation that is not likely to last long.
Bloodstream MRSA Infections: UK Trends
FIGURES: There were 725 reported MRSA bloodstream infections in England in the third quarter of 2008, between July and September. This shows a decreasing trend; in the previous quarter, between April and June 2008, there were 13% more cases, a total of 837. The 2008 figures show a reduction of a third compared to the same quarter of 2007, when 1082 cases were officially reported.
FIGURES: In 1993 there were only about 51 deaths due to MRSA in the UK but this had increased to over 1500 in 2006. A decreasing trend in MRSA-attributed deaths has been seen between 2006 and 2008, which mirrors the reduction in the number of cases of MRSA bloodstream infections. Most deaths occurred in elderly people with only one death per million people in the UK population in people under 45.
FIGURES: Statistics from 2008 show that while two of the nine NHS Trusts in the UK showed a decrease in the number of cases of MRSA reported, the other seven all showed increases, some as high as 50%. This is leading to a postcode lottery in terms of safe healthcare in hospitals.
The Financial Cost of MRSA in the UK
FACT: MRSA infections cause deaths but they also cause people who survive to spend much longer in hospital, with huge cost implications for the NHS. Estimates say that MRSA infections currently mean that the NHS has to spend an extra one billion pounds every year. This is three times the budget for treating HIV patients.
MRSA in The United States
FIGURES: The number of people infected by MRSA in 1999 in the USA was 127 000 with 11000 deaths. By 2005, the number of US cases had risen to 278000 in 2005, with 17000 deaths. By the middle of the first decade of the new millennium, MRSA had managed to kill more people each year than AIDS in the USA.
FACT: A worrying trend that has been noticed in the last couple of years in the USA is that more people who are confirmed with MRSA catch it outside hospitals. Gyms and health clubs seem now to be spreading MRSA through communal changing rooms and showers.
MRSA in Europe
FACT: MRSA prevalence has increased all over Europe since the year 2000. The UK is only the fifth in a table of worst affected nations. The problem is even more severe in Portugal, Malta, Cyprus and Romania. France and Slovenia were the first European countries to show a decrease in cases due to control measures.
How Resistant to Antibiotics is MRSA?
FACT: most strains of MRSA are resistant to beta-lactam antibiotics such as penicillin and methicillin, and also to the cephalosporins. Some strains are also resistant to tetracycline antibiotics and to sulphur drugs, which act by a different mechanism. Very dangerous strains also resist the effects of vancomycin and newer antibiotics such as linezolid.
Can MRSA be Controlled?
FACT: Possibly, but it takes sustained effort at many different levels and as time goes on, the challenge becomes even more difficult. Cleanliness and hand hygiene have been identified as important factors that spread MRSA and this has not yet been fully controlled in many hospitals.
You might also like...