Bacteria That Deal With Pollution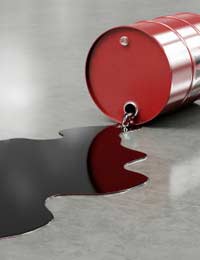 Bacteria may represent a primitive form of life but they are capable of very fast reproduction and rapid evolution. They can grow just about anywhere and use a wide range of natural and unnatural resources as sources of nutrients for growth. In places where toxic chemicals and toxic wastes accumulate, bacteria have evolved to use even these unlikely substances for their own benefit. Such toxins may occur naturally, for example as the result of volcanic activity, or, probably more likely, they are the product of human activity and industry.
Bacteria and Carcinogenic Chemicals
In 1997, the bacterium Dehalococcoides ethenogenes was describe for the first time. It was found growing on concentrated sewage at a sewage plant in the USA. It had the unusual ability to remove chlorine from carcinogenic chemicals such as trichloroethylene and tetrachloroethlyene, which are used as ingredients in cleaning products used industrially. Heavily chlorinated substances can also be used in dry cleaning products and also as degreasing agents that remove the grease from machines used in a wide range of different industries.
This specific species of bacteria can also digest the pesticide dichloro-diphenyl-trichloroethane (DDT; now banned all over the world because of its capacity to concentrate in animal tissues and to accumulate in animals high in the food chain, such as eagles), chlorobenzenes and perchloroethylene.
In the breakdown process, the bacteria convert toxic chlorinated compounds to the far less harmful organic molecule ethene. Using D. ethenogenes to clean up toxic wastes containing compounds that contain chlorine reduces their impact on groundwater, making drinking water far safer.
Recent genetic studies have looked at the genome of D. ethenogenes and found that it has the genes that code for 19 enzymes that are able to act on chlorinated solvents. Researchers think they have collected these genes in the form of mobile stretches of DNA, originally present in a much wider range of bacteria.
Bacteria to Clean Up Oil Slicks
Bacteria from sites where large oil spills have occurred show the ability to biodegrade some of the aromatic carbon compounds present in oil spills such as phenanthrene and naphthalene. Bacteria capable of breaking down diesel oil and polychlorinated biphenyls have also been discovered from the sea in the Antarctic, in the Ross Sea at Terra Nova Bay. These bacteria are so unusual and have been discovered so recently that they have not yet been assigned names.
Bacteria That Digest Aromatic Hydrocarbons
Polycyclic aromatic hydrocarbons are commonly used in the preparation of compounds used in wood preservatives such as creosote. If these are spilled onto the ground, they persist in the soil but there are bacteria that are able to break down these complex organic chemicals and make the ground safe again. Some of the bacteria responsible have been classified as Mycobacteria but have no species names as yet. Two of the better known Mycobacteria are the pathogens that cause tuberculosis (Mycobacterium tuberculosis) and leprosy (Mycobacterium leprae).
Bioremediation and The future
The commercial use of bacteria to degrade harmful complex toxic molecules has become known as bioremediation and it has the potential to become a very lucrative business. In the USA, companies are expected to pay around 1 billion US dollars for bioremediation by the year 2010.
One of the latest developments is to make bioremediation granules that contain anaerobic digesting bacteria in the core of the granules, where no oxygen is present and aerobic toxin digesting bacteria on the outside of the granule. This two-pronged attack can help digest more toxic waste using the same bacterial preparations than if the two different types were added individually.
You might also like...