What is a Strep Throat?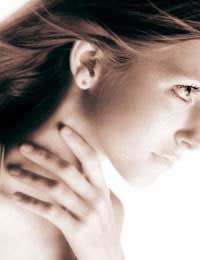 The term strep throat can be used by some people to mean any type of severe sore throat but medically it has a very specific definition. It is a sore throat caused by Streptococcus bacteria, usually of the species Streptococcus pyogenes, which is described as a Group A Streptococcus. This bacterium is pathogenic in humans and causes a range of serious conditions. It is highly contagious and can pass easily between people through the air and through objects used communally, such as toys at a playgroup or shared toothbrushes in a school dormitory. It is more common in children and teenagers under 15 years old.
What Are the Symptoms of Strep Throat?
The main symptoms are a sudden and very severe sore throat that looks very red when a mouth examination is made. White or yellow patches, indicating pus production may be visible and there may even be bleeding in the throat.
Streptococcal pharyngitis causes severe pain and the lymph glands under the jaw are frequently swollen, causing further generalised aching in the neck. Not only does it become difficult to swallow food or drink, swallowing saliva can become a real problem and this can be very distressing. Someone who has strep throat feels generally unwell and usually has a raised temperature and a bad headache. Other symptoms can include joint and muscle pain, back pain, nausea and vomiting, abdominal pain and a rash.
How is a Strep Throat Diagnosed?
Having a sore throat and feeling unwell are symptoms that appear with other types of infection, not just strep throat, so it is important to distinguish the pathogen responsible. A severe upper respiratory viral infection often leads to a sore throat but tends to also cause a cough and runny nose. Strep throat rarely if ever causes a cough. If a Streptococcal infection is strongly suspected the doctor usually asks for a rapid antigen test and a throat swab to test specifically for the presence of the bacterium. The rapid antigen test takes about 20 minutes but does produce a lot of false negative results. Culturing bacteria taken from the swab takes up to 48 hours, but it is more reliable.
Once a positive diagnosis is made, the patient can then be treated with antibiotics – amoxicillin is usually effective – for at least 10 days. People with a viral sore throat should not receive antibiotics because these drugs will do no good against the virus and such inappropriate use can encourage the spread of antibiotic resistance. Resistance to erythromycin, an antibiotic used in people allergic to amoxicillin and other penicillin antibiotics is already known to be increasing in Group A Streptococcal species.
How Contagious is Strep Throat?
Because Streptococcal bacteria can pass from person to person through close contact, it spreads particularly quickly between young children at schools or playgroups. For this reason, healthcare workers usually advise that children should not go back to school, or to places where they play with other children, until they have been treated with antibiotics for at least 3 days.
Strep throat also affects adults and can pass between people in crowded environments such as offices, tube trains and buses. Although a strep throat does itself not cause a cough, the affected person can produce airborne infectious particles by sneezing, sighing and even just breathing.
How Serious is Strep Throat?
A streptococcal pharyngitis is much more serious that a viral sore throat that is associated with the common cold. It should be diagnosed and treated promptly to avoid the more serious complications that it can lead on to. These include scarlet fever, streptococcal tonsillitis, rheumatic fever, toxic shock syndrome, kidney failure and brain damage. These conditions can be due to infection that spreads to other parts of the body, or to the action of bacterial toxins that circulate through the body in the bloodstream.
You might also like...