Whooping Cough; a Childhood Infection of the Past?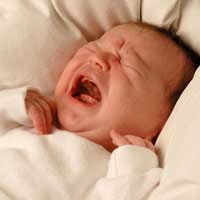 In affluent, industrialised countries like the UK, yes, the incidence of whooping cough is now much lower than it used to be. Up until the 1950s, about 100 000 children caught whooping cough every year in the UK – that's about three out of every four children. A significant number of them died from their illness, particularly babies less than six months old.
Whooping cough is an upper respiratory infection caused by the bacterium Bordetella pertussis, which is highly infectious and passes between people in the droplets of coughs and sneezes. Infection causes a severe cough, which empties all the air out of the lungs. The need to breathe in is then overwhelming, but the airways are contracted, so inhalation causes the typical 'whooping' sound. A coughing fit is often followed by vomiting This type of coughing, which cannot be controlled is very distressing both for a child and a parent or carer who is with them.
Since the 1950s, the vast majority of children in the UK have been vaccinated against whooping cough as part of the newborn vaccination program. This immunises babies against whooping cough, diphtheria, tetanus, polio and meningitis (the Hib vaccine against Haemophilus influenzae). Most school age children are also given a booster. Today, there are only about 150 case of whooping cough reported each year in children.
Will Whooping Cough Stay in the Past?
If the immunisation program that includes vaccination against whooping cough is maintained, the cases should stay low. However, when a disease is no longer around, people tend to think that it has disappeared and this, in combination with media reports of the dangers of vaccines, puts parents off vaccinating small babies. When immunisation rates fall, disease rates soon show a subsequent increase, so it is not at all certain that whooping cough will remain a disease of the past in the UK.
One worry amongst doctors at the end of 2008, after 5 babies had died of whooping cough within 18 months, was that parents and teenagers posed a danger to newly born babies. Immunity to whooping cough is known to wane over a period of years and adults may be susceptible to the infection, even though they were vaccinated as babies. If someone infected with Bordetella pertussis comes into contact with a newborn baby before that baby is old enough to receive his or her vaccination, the risk that the baby will contract a fatal case of whooping cough is extremely high.
Doctors are currently recommending that parents planning a baby should arrange a whooping cough booster for them and any young adults and teenagers in the household or close family.
Whooping Cough in the Developing World
Whooping cough may be almost a disease of the past in developed countries, but it is still very much a disease of the present in developing countries. In 2001, 340 000 children died of whooping cough in the developing world, where there are fewer facilities and funding to offer childhood vaccinations. Many other people became infected with Bordetella pertussis and suffered whooping cough – current estimates say that 50 million people get whooping cough every year, 90 per cent of them in the developing world.
Vaccination programs are now being better funded and new ways to introduce the vaccine, such as in a nasal spray are being investigated. This method requires less skill on the part of a healthcare worker than carrying out a properly sterile injection, and may be easier to arrange in remote rural areas. It is hoped that the death rate in the developed world will soon show the same dramatic decreases that countries such as the UK have seen.
You might also like...