I Got Hot Tub Folliculitis!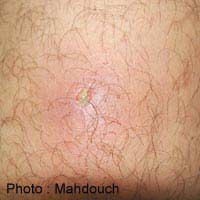 For most people, looking back on their summer holiday once autumn arrives is quite nostalgic. We tend to wish we were back in our hot, sunny location, relaxing and miles away from work, commuting and the grey skies of November. For Karen, this year is different. "When I look back to my holiday in Lanzarote this year, I am really pleased that I am wearing a jumper, sitting by the fire and its raining outside!" she says.
The reason for her lack of enthusiasm for holiday reminiscing is not because the holiday villa was poor, or the weather was bad, or that there weren't great things to do. "For the first week of the holiday we had a fantastic time. I had never been to Lanzarote before and its a really interesting island – volcanic with dark grey lava over the northern part of it where volcanoes erupted years ago. The beaches are fabulous, the weather was gorgeous and we had a lovely villa with our own pool and a roof terrace. Local restaurants were great and we went on a couple of really interesting day trips to see the volcanic national park and the home of Cesar Manrique," she says, getting quite enthusiastic anyway.
A Hot Tub Experience
During the first weekend, Karen and her husband Dan and their two teenage children were eating in a local restaurant when they got talking to another family with kids of about the same age. "We got on really well and ended up sharing a big table and arranged to meet up the following evening. That's when Julie told us their villa had a hot tub on the roof terrace. I have always loved hot tubs and had been disappointed that we couldn't get a villa with one. When Julie and Mike invited us round two evenings later for a hot tub party and BBQ, I was very happy to accept," she says.
The party went well and everyone had a great time. The kids were not bothered about the hot tub, and were more interested in the larger pool. "I spend most of the time in the hot tub with Julie, sipping white wine and having a really good natter," says Karen. The hot tub was loaned out to the villa by a separate company and Karen took the details, thinking that they might book one for another holiday.
Itchy Skin Rash
The next day, Julie's skin felt a bit sore and she thought she may have overdone the Sun. "The trouble was, I was itchy where my swimsuit had been and my skin was redder there than on my arms, which had been in the Sun. I put some after-sun lotion on and we had a relaxing day by our own pool. When I went in to make dinner though I noticed that I was developing a really horrible rash all over. The red bumps had got worse and were looking like dark purple nodules. My husband then really panicked thinking I had meningitis and we ended up spending £200 seeing a local doctor as an emergency," says Julie.
Hot Tub Folliculitis
Fortunately, Karen's doctor was originally from the UK, so could explain exactly what the problem was without too many language difficulties. "He told me I had hot tub folliculitis – I had never heard of such a thing. Apparently, some hot tubs that don't have the right amount of chlorine in the water, and are not kept at the correct pH are prone to allowing bacteria to grow in the water. Its warm in there, so perfect conditions," explains Karen.
The bacterium responsible for hot tub folliculitis is Pseudomonas aeruginosa and the infection, which occurs in the hair follicles, can develop if someone is in a hot tub that is not correctly maintained. "Fortunately, none of the others in our family had spent any significant time in the hot tub, so I was the only one affected. The doctor explained that the infection would subside within two weeks on its own but I was to steer clear of the hot tub, and couldn't go in public pools. He said that as I was also in more Sun than my skin was used to, antibiotics were justified in my case to clear up the infection more rapidly. I ended up having to take them for the rest of the holiday – so couldn't have another glass of wine the whole time," says Karen.
Learning the Lesson of Hot Tub Folliculitis
"This has really put me off any type of hot tub and I would never go in one again. I am also pretty much off holidays too at the moment, although I guess I will change my mind next year, when the memories have faded a bit," laughs Karen.
You might also like...