Friendly Bacteria on the Skin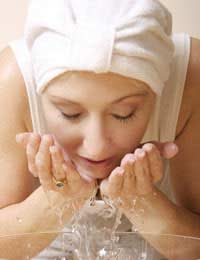 The skin is the largest organ in the body. It forms the outer surface of the entire body and acts to keep the internal tissues free from infection. It does this by forming a physically protective water proof layer that blocks the entry of bacteria, viruses, fungi and parasites. But it has another defence mechanism – it is home to millions of friendly bacteria that create conditions that crowd out potential pathogens and prevent them growing there.
What Types of Friendly Bacteria Live on the Skin?
Every person has a different complement of friendly bacteria on their skin surface and there can be as many as 180 different species growing there. These include the friendly species of Staphylococcus epidermidis, Staphylococcus hominis, Micrococcus luteus, Arcanobacterium haemolyticum and Propionbacterium acnes. Other commensals are part of the Corynebacterium group, the Brevibacterium species and the Dermabacter group.
Corynebacterium xerosis is a friendly bacterium that lives on the transparent layer that protects the cornea of the eye. This is always moist and warm, so it seems likely to be a perfect environment for many different bacteria, even pathogenic species. However, C. xerosis is one of the very few types of bacteria that can live with the high salt concentration in the tears, and that can withstand the action of the enzymes that are present in this fluid. Its presence in the tears further repels any pathogenic species, ensuring its continued success as a friendly eye bacterium.
What do Friendly Bacteria Do?
S. epidermidis prevents its closely related cousin Staphylococcus aureus (so called because it produces bright golden colonies in culture) from adhering to skin cells in order to invade them. Some strains of S. epidermidis produce bacteriocins, specific proteins that kill pathogenic species of related bacteria. P. acnes breaks down lipids inside its cell and transports the fatty acid breakdown products onto the skin, which reduces the pH and prevents growth of Streptococcus pyogenes.
Some of the activities of friendly bacteria help repel potential pathogens but their effects are not always pleasant to their hosts. Dermabacter species and Brevibacteria grow best in moist, dark areas of the skin such as between the toes and the Brevibacteria are known to be the source of an organic molecule called methan thiol, which causes the overpowering but familiar odour of 'smelly feet'.
How Are Friendly Bacteria Recognised?
Among the 180 different species of friendly commensal bacteria that are present on normal health skin, there are 32 types of Staphylococcus. There are distinguished from pathogenic bacteria because they lack coagulase, an enzyme that is only found in invasive strains that are capable of cause disease. Biochemical tests are available that show whether particular species of bacteria possess active coagulase enzymes or not.
Although this test works well for Staphylococcus species, it can be very difficult to separate friendly bacteria from pathogenic species as the difference between the two may merely be opportunity. Some of the bacteria that are found on healthy skin and that appear to carry out a helpful function may turn on their host if the conditions are right. This can occur in people who have a weakened immune system, or even in healthy people in areas of the skin where the normal defences break down.
Staphylococcus aureus, for example, is present as a commensal bacteria in just under half of all healthy people. Healthcare workers may carry it more frequently. If the skin remains healthy, there is no problem but this bacterium can become an opportunistic pathogen. It often infects wounds after surgery in hospitals and is responsible for many cases of post-operative complications.
You might also like...